IRAP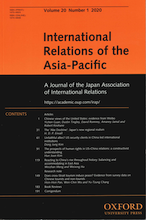 (Click the image to view front cover.(PDF file))
About IRAP
International Relations of the Asia-Pacific
is the English journal of the Japan Association of International Relations. Since its launch in 2001, this triannual journal has been published by Oxford University Press. We send each issue of the journal, along with the Japanese journal of the Association, Kokusaiseiji (International Relations), to the members of the Association.
If you are not a member of the Association and wish to subscribe to the journal, visit the introductory page of the journal at
the Oxford University Press website)
. (Both printed and online versions are available)
Information for Authors
International Relations of the Asia-Pacific
is a major new international journal publishing the best original research in the field. Papers are welcomed from all IR scholars, both within and without the Asia-Pacific region.
All papers will be subject to anonymous peer review, and will be evaluated on the basis of their creativity, quality of scholarship, and contribution to advancing the understanding of the international relations of the region.
Papers should be submitted online via online submission web site at:
http://mc.manuscriptcentral.com/irap
Detailed instruction for online submission could be found below.
http://www.oxfordjournals.org/irasia/online_submission.html
Submissions will be dealt with swiftly, and the editors aim to communicate a first decision to contributors within 8 weeks of submission. Detailed notes follow:
The maximum length of articles including references, notes and abstract is 10,000 words, and the minimum length is 6,000 words.
Research Note should not exceed 10,000 words, including references, notes and abstract.
Review essays should be between 3000-4000 words.
Book reviews should be between 600-1000 words.
Subheadings should be used to clarify and divide the structure of the discussions; if more than one level of subheadings is used, they must be clearly differentiated. Sub-headings should not be numbered.
Articles and Research Note must be accompanied by an abstract of no more than 150 words.
Submission should be made through the online submission system at http://mc.manuscriptcentral.com/irap. For further information on online submission, please see http://www.oxfordjournals.org/irasia/online_submission.html. If you have any problems with online submission, please send your manuscript files by email to jair@j.u-tokyo.ac.jp
Authors should pay particular attention to the accuracy and correct presentation of references (see below). In-text references should be cited by giving the author's name, year of publication (Smith, 1999) and specific page numbers after a direct quotation. In-text lists of references should be in chronological order. A reference list should appear at the end and should include only those references cited in the text. References should be double-spaced, arranged alphabetically by author, and chronologically for each author. Publications for the same author appearing in a single year should use e.g. 2001a, b, c, etc. Where there are more than two authors, the reference within the text should be cited as Smith et al. and the date, but include all the authors in the reference list.

Examples:


BOOK


Keohane, R.O. (1989)

International Institutions and State Power

, Boulder, Colo, Westview Press.


EDITED BOOK


Krasner, S. (ed) (1983)

International Regimes

, Ithaca, N.Y., Cornell University Press.


BOOK CHAPTER


Boli-Bennett, J. (1979) 'The ideology of expanding state authority in national constitution 1870-1970', in J. Smith (ed.),

National Development and the World System

, Chicago: University of Chicago Pres, pp.222-237.


ARTICLE


Carlsnaes, W. (1992) 'The agency-structure problem in foreign policy analysis',

International Studies Quarterly

, 36, 245-270.


Footnotes should be avoided, or at least kept to a minimum. They should be indicated in the text by superscript figures and collected at the end of the article in numerical order.
Diagrams and tables should be provided on separate file appended to the article. They should be numbered, they should be referred to in the text, and their position in the text should be clearly marked. They should be comprehensible without reading the text. Artwork should be of sufficient quality to be reproduced without amendment.
On acceptance of the final version for publication in the journal, a figure captions and tables should be inserted at the end of the file. Tables, diagrams, figures, graphs or illustrations generated electronically should be saved as separate files and not embedded into the text file. The article should be typed unjustified, without hyphenation except for compound words. The TAB key should be used once for paragraph indents. Where possible, Times should be used for the text font and Symbol for any Greek and special characters. The word processing formatting features should be used to indicate bold, italic, Greek, maths, superscript and subscript characters. Carriage returns should not be used to obtain spacing between lines, paragraphs, references, etc. Single spaces should be used after each sentence within a paragraph. The running titles and footnote features of the word processing package should not be used.
For queries, please contact Editorial office at
jair@j.u-tokyo.ac.jp
Recent Articles

To view PDF files, you will need to download and install a PDF viewer such as Adobe Reader. Some viewers can be downloaded and installed for free.